Bonjour à tous, ici Otakyun !
Nous nous retrouvons aujourd'hui pour discuter de l'adaptation au format 1/6 de la plus jolie des princesses de l'univers, Lala Satalin Deviluke. Celle-ci nous arrive tout droit du manga de Yabuki Kentarou, 「To LOVEru Darkness」.
La figurine est basée sur l'illustration présente sur la couverture de l'artbook To LOVEru Darkness Venus.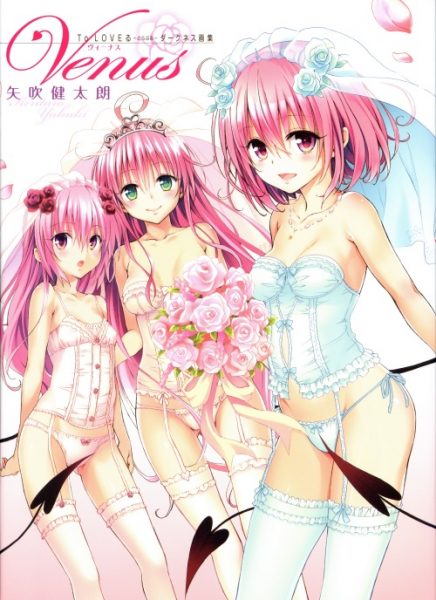 Nous la retrouvons entrain de nous regarder avec un petit sourire malicieux. Sa tenue ne sera pas sans vous rappeler les précédentes adaptations de chez Max Factory qui reprend le thème de la lingerie nuptiale. Du côté de la sculpture de Nakayaman, celle-ci est vraiment sans défaut et reprend aux traits près l'illustration de Yabuki Kentarou. La colorisation de Akimoto Hajime est également de très bonne facture et vous n'aurez aucun mal à reconnaître le personnage.
Au final, si vous êtes fans de la licence To LOVEru Darkness, je ne peux que vous conseiller de vous la procurer et de l'exposer en compagnie de ses deux jeunes sœurs, Nana et Momo.
La figurine 1/6 de Lala Satalin Deviluke est datée pour Octobre 2018 au prix de ¥13.800 / 113.90€.
Origine : To LOVEru Darkness
Fabricant : Max Factory

Distributeur : Good Smile Company
Format : 1/6 (~26,5 cm)
Matériaux : ABS & PVC
Illustrateur : Yabuki Kentarou
Sculpteur : Nakayaman
Colorisation : Akimoto Hajime
Prix : ¥13.800 / 113.90€
Date de sortie : 10/2018
Précommande : CDJapan

Date de fin des précommandes : 23/11/2017

©矢吹健太朗・長谷見沙貴/集英社・とらぶるダークネス製作委員会
Les photos sont tirées d'un prototype et non du produit final.
Des modifications sur la couleur et la sculpture peuvent être apportées.