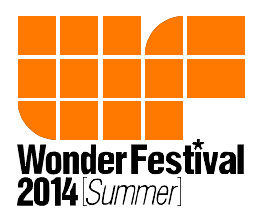 Bonjour à tous, ici Otakyun  !
On se retrouve aujourd'hui pour le fameux article des exclusivités qui seront disponibles lors du Wonder Festival 2014 Summer qui aura lieu ce dimanche 27 Juillet de 10h à 17h (heure japonaise) au célèbre site du Makuhari Messe à Chiba.
Pour rappel, si vous comptez vous y rendre pour la première fois,  sachez que l'entrée n'est pas gratuite et qu'il faudra vous procurer le guide du salon qui vous coûtera la modique somme de 2.000 Yens, celui-ci vous servira de ticket d'entrée et de carte pour pouvoir localiser vos différentes recherches !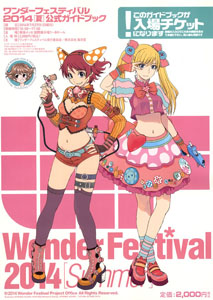 Je peux vous dire que la Team Berryz est extrêmement impatiente d'être à dimanche pour couvrir pour la quatrième fois depuis nos ordi respectif ce royaume de la tentation qu'est le Wonder Festival (un jour nous y serons ! UN JOUR !).
Sur ce, je vous laisse faire un tour sur cet article calmement et n'hésitez pas à venir parler de vos différents coups de cœur ou prévision d'achat dans les commentaires !



















Quelques événements/activités à faire lors du salon !
Good Smile Company :
11h30 – 12h10 : Anime TERRAFORMARS Stage
12h20 – 12h50 : DRAMAtical Murder Stage
13h00 – 13h30 : Good Smile Racing & TeamUKYO: Looking Back on the 2014 Season
13h40 – 14h15 : Gargantia on the Verdurous Planet Stage
14h30 – 15h00 : Wake Up, Girls! Stage: WF Special Stage in WHL4U!! 20
15h15 – 15h45 : Knights of Sidonia in WonFes -Drifting-
16h00 – 16h50 : Ending Stage: IDOLM@STER Cinderella Girls Special Stage
Sega :
un mini concert des Wake Up, Girls! 
Par la même occasion, Emiri Katou (la doubleuse d'

Hideyoshi de Baka to test) devrait une apparition durant le mini concert des WUG.

Kiuchi Hidenobu et Chiaki Takahashi viendront parler de leur participation sur l'anime TERRAFORMARS
La réponse D signifie que vous serez présent et actif à 100% en commentaire.
Nous comptons sur vous !
J'espère que ce petit tour d'horizon sur les exclusivités du Wonder Festival Winter 2014
vous aura plu. Nous commencerons les hostilités sur la page FaceBook dés l'ouverture du salon.
(Relié à Twitter pour ceux n'aimant pas FB) Les couches tard ou lève très tôt seront ravis !
Excusez nous d'avance pour le flood intensif lors de cette journée !