Bonjour à tous, ici Otakyun !
Nous nous retrouvons aujourd'hui pour discuter de l'adaptation au format 1/7 de la sérieuse et intelligente étudiante de la classe 1-D, Horikita Suzune dans une version Clothes Changing. Celle-ci nous arrive tout droit de la licence 「Youkoso Jitsuryoku Shijou Shugi no Kyoushitsu e」 ou plus communément appelé chez nous sous le titre 「Classroom of the Elite」(la série est disponible gratuitement en vostfr sur Crunchyroll.fr !).
Pour rappel, Suzune fut dévoilée durant le Wonder Festival 2017 Summer en tant que prototype sans couleur au côté de Honami Ichinose.
"Vous êtes drôle, vous ne trouverez rien d'intéressant pour me parler."
La figurine est basée sur une illustration de l'original character designer du light novel, Tomose Shunsaku, qui a été utilisé sur un bonus disponible avec le roman.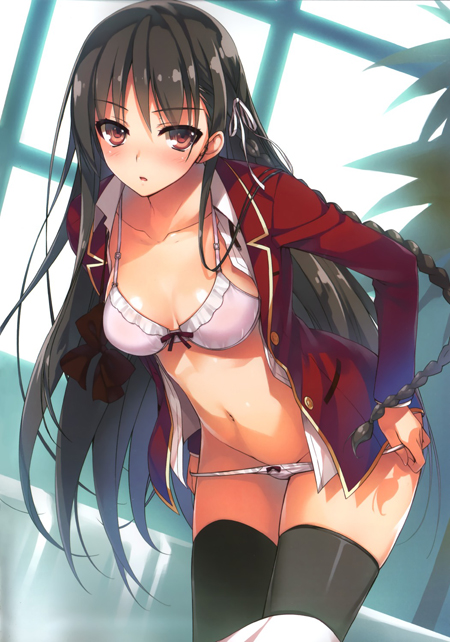 Nous la retrouvons entrain de nous regarder d'un air surpris, son visage légèrement rougissant de part la situation où nous l'observons entrain de s'habiller. Sa veste et son chemisier grand ouvert nous donne ainsi la chance de pouvoir découvrir ses sous vêtements ainsi que son corps qui ont été fidèlement reproduit par pokkur/M.I.C. Corp. (le sculpteur en charge de cette figurine). La colorisation est également très bonne et vous n'aurez aucun mal à reconnaître le personnage.
Si Classroom of the Elite est l'une de vos séries favorites de l'été 2017, n'hésitez plus à rajouter cette adaptation à votre collection !
La figurine 1/7 de Horikita Suzune est datée pour février 2018 au prix de ¥14.580 / 119.90€.
Origine : Youkoso Jitsuryoku Shijou Shugi no Kyoushitsu e / Classroom of the Elite

Version : Clothes Changing
Fabricant : Kadokawa

Distributeur : Good Smile Company
Format : 1/7 (~21 cm)
Matériaux : PVC
Illustrateur : Tomose Shunsaku
Sculpteur : pokkur/M.I.C. Corp.
Prix : ¥14.580 / 119.90€
Date de sortie : 14/02/2018
Précommande : CDJapan

Date de fin des précommandes : 26/10/2017

© 衣笠彰梧・KADOKAWA刊/ようこそ実力至上主義の教室へ製作委員会
Les photos sont tirées d'un prototype et non du produit final.
Des modifications sur la couleur et la sculpture peuvent être apportées.
↓ Pour rappel, la figurine de Honami Ichinose est toujours disponible en précommande. ↓