Bonjour à tous !
Plus de deux ans après la mise en précommande de Momo Belia Deviluke, c'est maintenant au tour de la seconde princesse de Deviluke, Nana Astar Deviluke de débarquer dans la plupart des boutiques en ligne pour le plus grand plaisir des fans de la licence To LOVEru Darkness !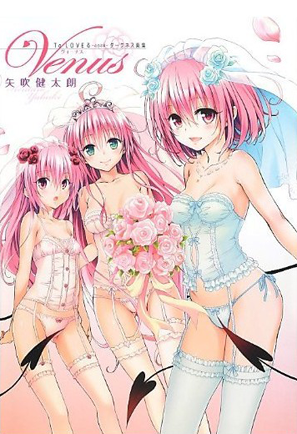 Max Factory continue donc sur sa lancée de nous proposer l'intégralité des personnages visible sur la couverture de l'artbook To LOVEru Darkness Venus de Yabuki Kentarou. Nous y retrouvons Nana portant une lingerie basée sur le thème du mariage qui j'en suis sur ne laissera pas beaucoup d'entre vous indifférent.  Le travail de Shining Wizard @ Sawachika (le sculpteur) est vraiment de très bonne qualité, ainsi que son choix sur les matériaux de certaines pièces qui rendent le tout très réaliste.
Le seul point qui me dérange (il peut aussi s'agir d'un problème d'angle sur les photos), c'est que l'œil droit du personnage ne me semble pas très bien proportionné, il faudra donc attendre sa release et les dizaines de photos qui vont suivre pour pouvoir la juger correctement !
Personnellement, je ne craquerais pas sur cette scale de Nana Astar Deviluke puisque je n'apprécie pas spécialement les princesses de Deviluke !
La figurine 1/6 de Nana Astar Deviluke est datée pour septembre 2017 au prix de ¥12.000 (~93,52E).
Origine : To LOVEru Darkness
Éditeur : Max Factory
Format : 1/6 (~26,5cm)
Matériaux : ABS & PVC
Artistes : Yabuki Kentarou
Sculpteur : Shining Wizard @ Sawachika
Colorisation : Hirose Hiroyuki
Prix : ¥12.000
Date de sortie : 20/09/2017
Précommande : CDJapan
© 矢吹健太朗・長谷見沙貴/集英社・とらぶるダークネス製作委員会
Les photos sont tirées d'un prototype et non du produit final.
Des modifications sur la couleur et la sculpture peuvent être apportées.