Bonjour à tous, ici Otakyun !
Il y a maintenant une année (février 2016) se lançait le projet anniversaire pour fêter les 10 ans de la publication du light novel de Isuna Hasekura (scénariste) et de Jū Ayakura (illustration), Spice and Wolf.
Pour fêter cela, le site Tokyo Otaku Mode collabore avec le fabricant Myethos pour proposer une figurine de la jeune louve, Holo, dans une magnifique robe de mariée qui ne sera pas sans vous rappeler la couverture de l'artbook de Jū Ayakura, Spice and Wolf Illustrations Art Book. Voici une production qui ravira l'intégralité des fans de cette licence du Dengeki Bunko.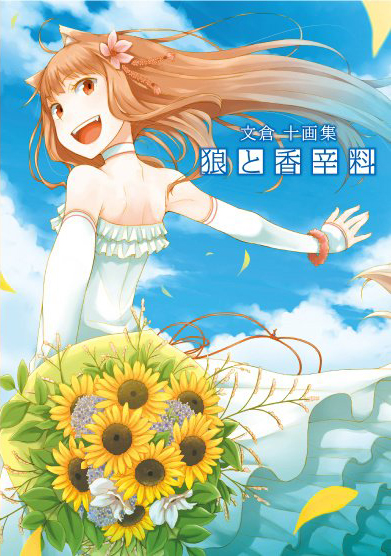 Depuis lors, un prototype 3D de cette adaptation a fait une apparition sur le Dengeki Hobby.
Prototype 3D de la figurine Myethos de Holo Wedding Dress ver.(Spice and Wolf). Exclusive Tokyo Otaku Mode. ¥11,800 – 11/2017 #SpiceAndWolf pic.twitter.com/HU1Na3tPVM

— Ruru@WF2017W (@Ruru_Berryz) 10 février 2017

C'est sur le stand de Tokyo Otaku Mode (Hall 3, 3-11-02) lors du Wonder Festival 2017 Winter que vous pourrez apercevoir la belle et également vous laissez tenter puisque celle-ci sera disponible en précommande. Vous pourrez ainsi recevoir des bonus limités comme un porte clef en acrylique de Holo & Lawrence (limité à 150 exemplaires), ainsi qu'un shikishi exclusif.
Si vous êtes bloqué chez vous, ne vous inquiétez pas puisque TOM la proposera également en précommande sur son site en lancement simultané avec le japon, la petite surprise revient au fait que le distributeur fera également gagner 20 personnes qui auront passé commande entre le 19 (2h du matin) et le 20 (9h du matin) février 2017 pour repartir avec les goodies exclusifs précédemment cités.
La figurine exclusive & limited de Holo
est datée pour novembre 2017 au prix de ¥11.800 (~98€).
Origine : Spice and Wolf
Fabricant : Myethos
Distributeur : Tokyo Otaku Mode
Format : 1/8
Illustrateur : Jū Ayakura
Prix : ¥14.000
Date de sortie : 11/2017
Précommande : Tokyo Otaku Mode
© 支倉凍砂/アスキー・メディアワークス/「狼と香辛料II」製作委員会
Les photos sont tirées d'un prototype et non du produit final.
Des modifications sur la couleur et la sculpture peuvent être apportées.